Transformation of a 1969 Giulia GTJ to a GTA replica
News & Updates
Racing 2016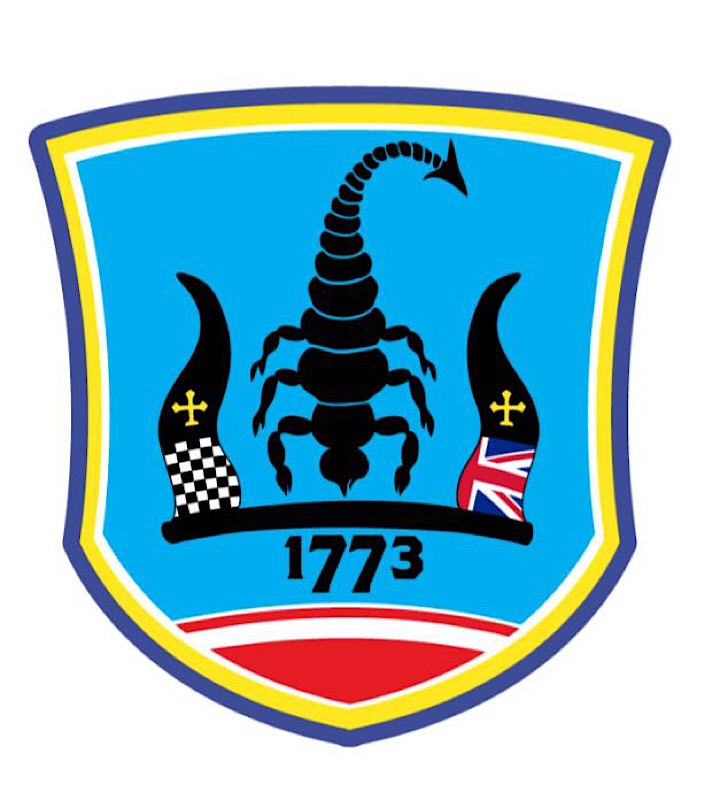 Racing crest based upon family crest
Back in England after about 12 years and signed up with CSCC in their Swinging Sixties series. Full grids and lots of different circuits aling with simple regs and focus on driver standards make this ideal. There are only about 4 rules: Original engine type; Original fuelling type; Original body silhouette; 60-profile 048R tyres (except for the Minis).
Snetterton 300 - First outing on this layout and it was utterly tipping with rain. It had been a difficult enough prep for the race as my new tow car had a cracked wheel. The dealer lent me a Discovery but that had a seized brake. The idiot race engineer (me) then left the power turned on in the car overnight so, on race day, the battery was completely flat. This was compounded by discovering, during quali, that the breather on the fuel tank no longer worked and, when full, this caused starvation to the engine. I therefore had to stop in the pits to solve this but then couldnít restart the engine (which Iíd had to stop as a safety car had closed the pit exit and, without a fan, my engine was getting too hot!). The race itself was just a matter of survival as the track was incredibly slippery with cars going off everywhere (I think i counted 6 cars off on one lap). I nearly lost my car on the pit straight as, when I changed up a gear, the car stepped sideways and I was looking at the barriers. Iím writing this two years later but I think I came 3rd in class.
Silverstone National - Dry weather and a circuit I know. We were in the garages which came with a hidden catch: scrutineering is at the other end if the sloping uphill paddock and, because of the curfew, the cars had to be pushed there! An 850kg car with sticky, low pressure, race tyres is a nightmare to push on your own. If that wasnít enough, I forgot my gloves (for inspection) and my brake lights werenít working (a bugger to check on your own). I have to admit to having been quite stressed by the time the car was back to the garage. Still, I qualified the car near the front (row 2). And my pit crew (Andy and Bill) had turned up, so things were looking better. The race itself started well, with me quickly getting to second behind the very rapid Lotus Cortina. A car off at Copse meant a bit if a traffic jam of back-markers slowing front-runners and I was passed and down to 4th. When I pitted, an incredibly slow MG lost me time on the pit entry (in hindsight, I should have passed him) but Andy and Bill did a great job with my belts and I was soon back out. The pits mean that you lose any sense of where you are in the race and I was slightly worried when I spotted the yellow Cortina closing in on my, thinking I was about to be lapped. A back-marking Mini baulked me on the entry to the back (Wellington?) straight and the Lotus Cortina came around the outside as we battled through the complex. It turns out I had just lost the lead on the last corner of the last lap and Richard Belcher in the Cortina had pipped me to the line!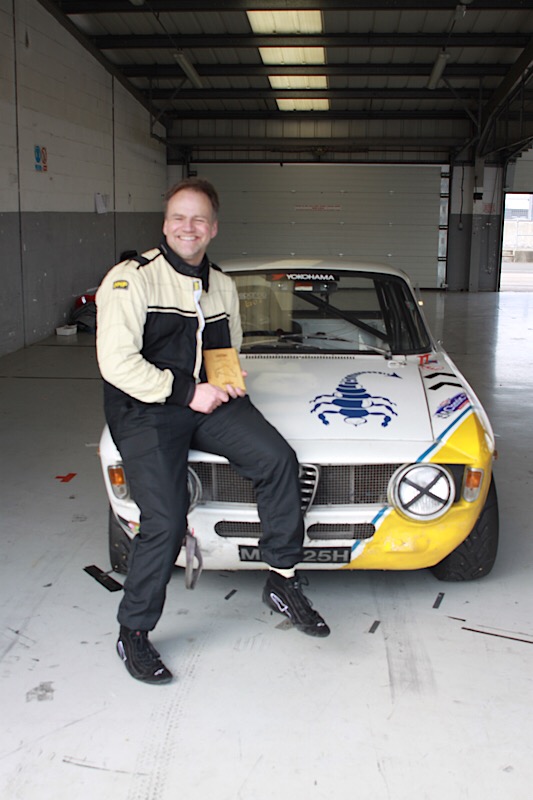 2nd place at Silverstone
Youtube video link
Brands Hatch Indy - Iíve never felt particularly happy with Brands: itís a circuit I just donít quite feel Iíve got to grips with. At the insistence of Bill and Andy, we were, at least, armed with a pit board so they could communicate with me during a race to avoid another Silverstone. Other than that, I donít think the weekend was that eventful. I think I qualified OK and came away with a 2nd or 3rd in class.
Thruxton - another new circuit to me and an exciting one to get to grips with. Added to this, the two 60ís groups were combined so we had the big-engined cars and the plastic fantastic (Elans etc) with us. I really loved the circuit and Iím sure, in hindsight, I could have done better. The race was marred by a big smash involving a few cars going off on oil. An MGBV8 rolled but everyone was OK and the race was stopped. It made me think twice about fully committing to Church. Fortunately they squeezed a restarted race with not pit stop into the end of the day. A big Falcon mixed things up - lapping in about the same time as me but much slower in the curves and then blasting past on the long straight. A lot of fun and a class podium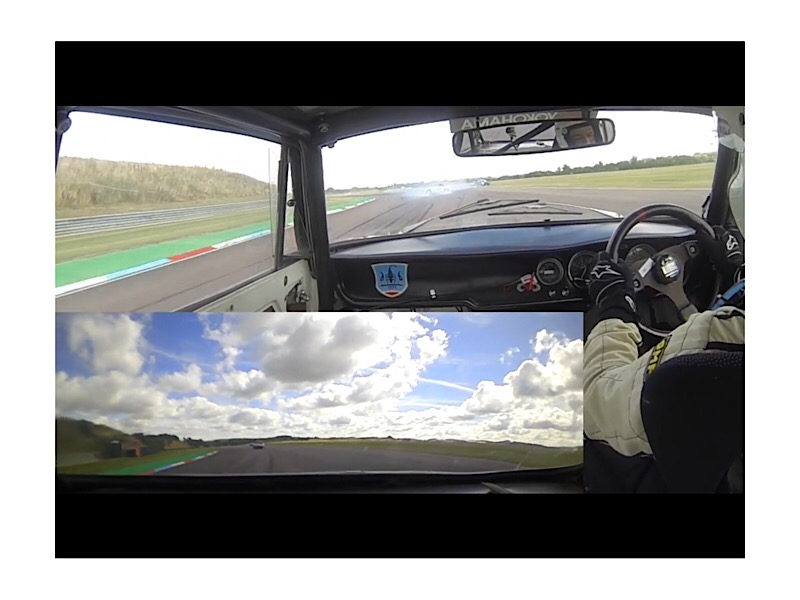 Smoke as crash unfolds in front of me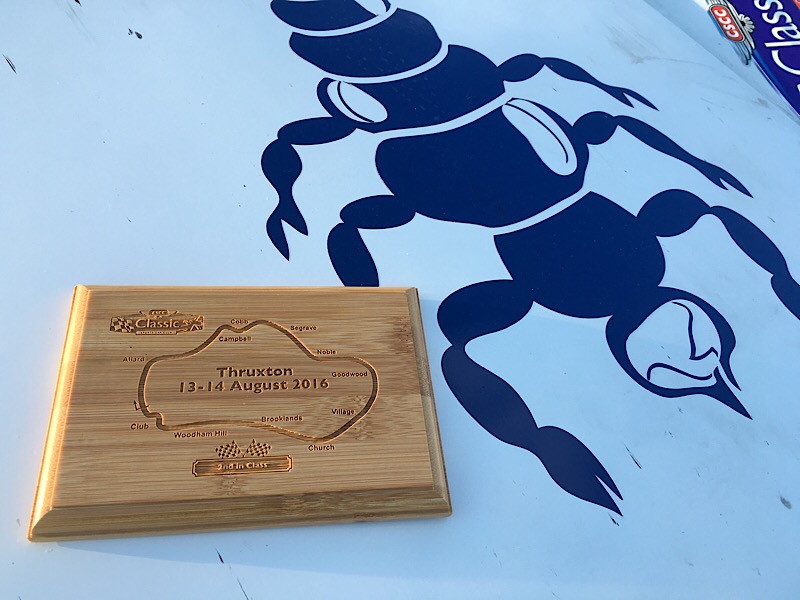 2nd in class
Donington - First time actually racing at Donny and it was another filthy weather day. I got a good start and was rather surprised to hold a leading position as everybody struggled to keep it pointed in the right direction. Several times, braking for the chicane, I found I had absolutely no grip and just went straight on. I wasnít the only one. I thought an Anglia was going to do the same thing but he passed a load of us then slowed sharply for the corner and took it beautifully. The driver later found us and apologised: heíd been in the Open race before, where wet tyres are legal, and had forgotten to change them. He pulled out of the race when he realised but must have thought he was a rain god up until that point. Up the hill from the old hairpin, my car spun all on its own. Later in the race, I collected up a massive 3-way tank-slapper - 2 other drivers came and found my after the race to congratulate me on my skill! :-) I could hardly see a thing all race and also didnít record it as we had no notice in the collecting paddock.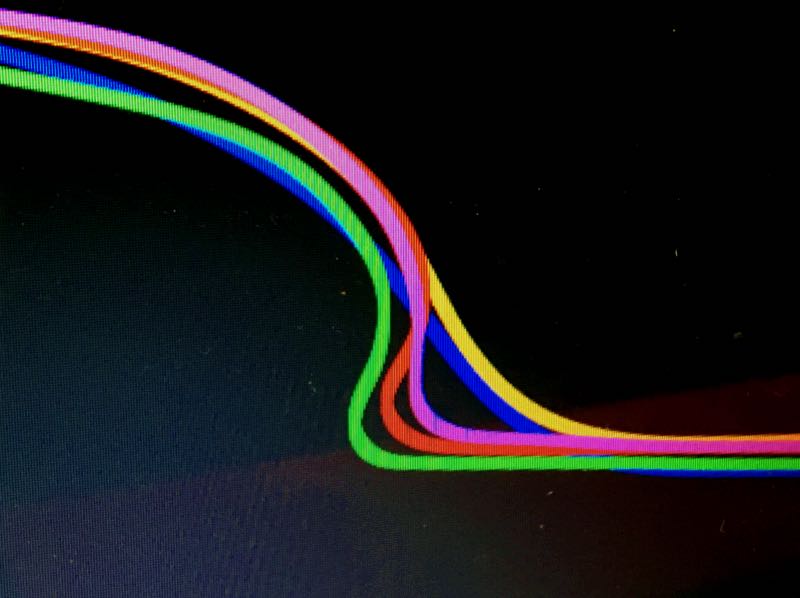 Various unintentional lines into the chicane at a wet Donny
Anglesey - I knew nothing of this circuit before going and, TBH, I should probably have turned around and headed home when I got punctures in both a rear tow car tyre and a trailer tyre just outside a town on the way up. I was very lucky that I was close to a tyre centre and they managed to locate and collect a suitable Merc tyre (I was thorough bent over on the price). On the Friday I did a test day and my clutch master cylinder failed (Iíd suspected it was going but failed miserably to get a spare prepared). I had one shipped up overnight (at great expense) but also managed to break the rod of the old one off inside the connecting arm. Much messing about with drills and a discovery that the thread is really odd finally led to a fix. Being so far away, my usual pit crew couldnít make it but a friend from Edinburgh was planning to come. A mix-up meant that he was waiting at the wrong service station and missed his lift. In the race, therefore, I had to borrow some help from another team. My pit was therefore delayed until theyíd (perfectly reasonably) serviced their own guy. As I left my pit, an ďunsafe releaseĒ from another team caused me to speed up slightly to avoid a collision. This got me a pit lane speeding infringement and a 5-sec stop-go penalty. On rejoining the race, I was just ahead of Richard Belcher in the yellow Lotus Cortina (again). Double waved yellows and a slow back-marker into turn one meant that I slowed to avoid the overtake. Richard hadnít noticed until it was too late and rear-ended me, ending both of our races. Difficult and expensive weekend. But a fab circuit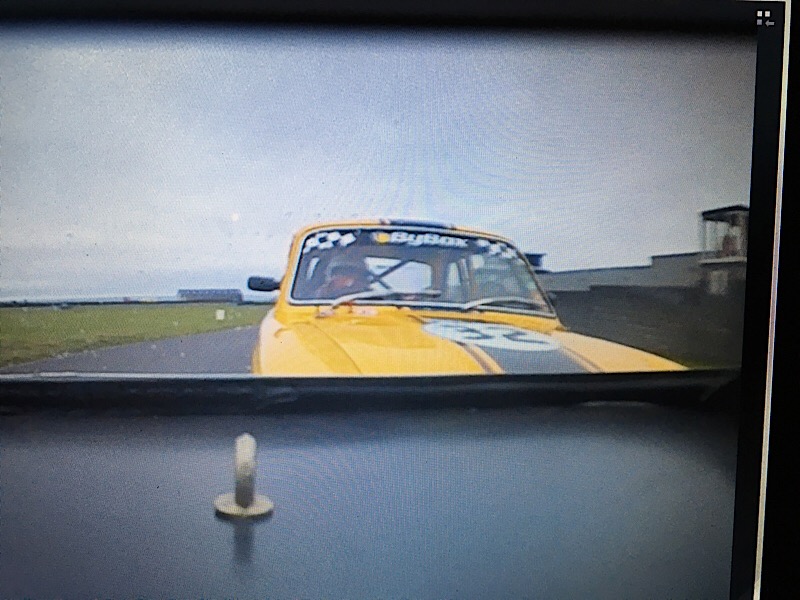 About to be hit...
Cadwell Park - After much bashing and pulling and fixing of broken lights and boot, I got the car ready for Cadwell, one of my very favourite circuits. Much of my race was behind a TR4. An anomaly of of the rules is that, despite the TR being 2.5? litres, because itís only 4-cylinder, it was in our group and class. It therefore had lots of torque and some reasonable power to stay ahead on the straights though it wasnít very quick in the corners (and also seemed prepared to bump panels in the corners). Cadwell, being a very narrow park circuit, made this especially problematic. I got alongside once or twice nefore the stop but couldnít complete the pass, despite being held up. My normal pit crew werenít both available so our stop was probably the only one that wasnít the fastest of all. After the stops were complete, I found myself back behind the TR. A dive into the hairpin (with squealing tyres for added effect) finally got me past and I was beginning to close on the battling Mini and BMW ahead of me when the race finished. Another class podium and a (completely unofficial) 3rd in class for the year behind the two drivers that shared the BMW drive. When Dave pulled my engine to bits, he discovered a bent inlet valve and a clutch that had nearly destroyed itself. I must get him to check the engine in less than 5 years next time. Great engine, Dave - thank you!
Youtube video link