Transformation of a 1969 Giulia GTJ to a GTA replica
Here's some pictures of the work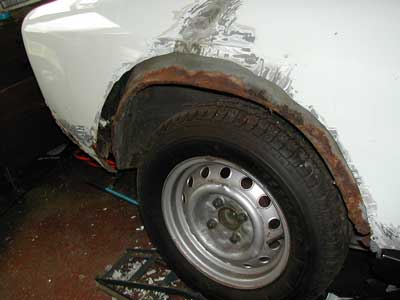 Chopped out wheel arch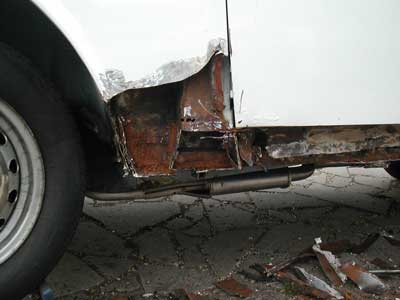 Horrible sill - someone had spent a lot of time patching this badly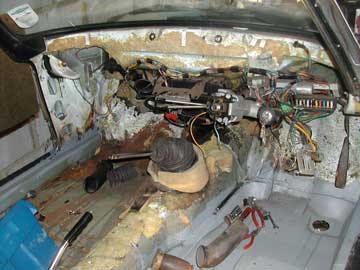 Interior out - one floorpan in - 3 to go.....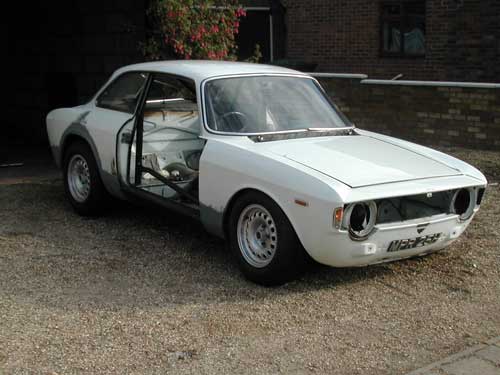 No front springs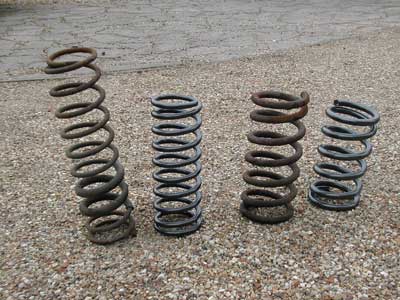 The difference in the springs - original versus Harvey-Bailey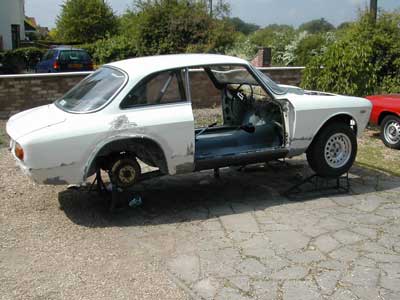 Welding underneath - ouch!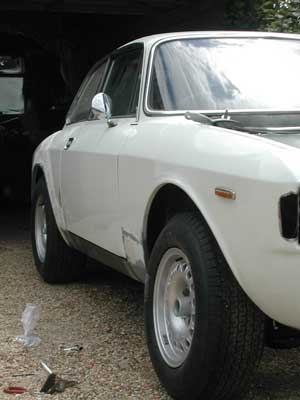 The door lines up - or at least will!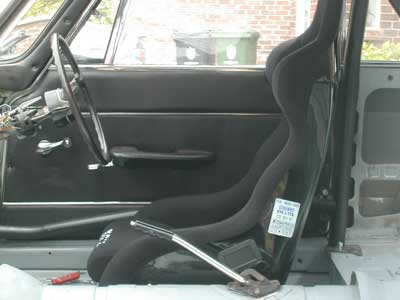 Trial fitting of the racing seat - very tight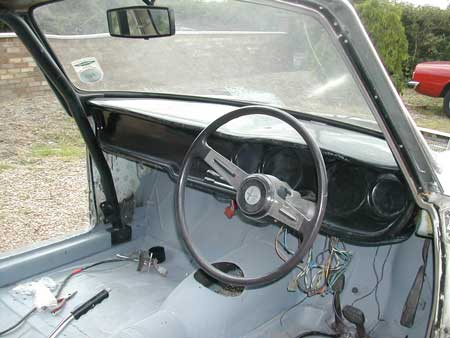 The lightweight GTA dash before preparation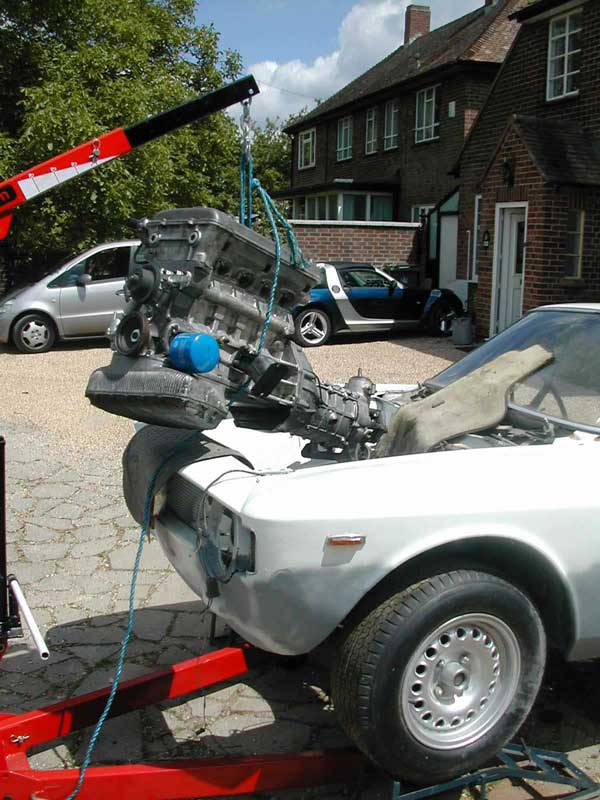 Dropping in the 2000 engine and 1300 gearbox
Complete and easy to do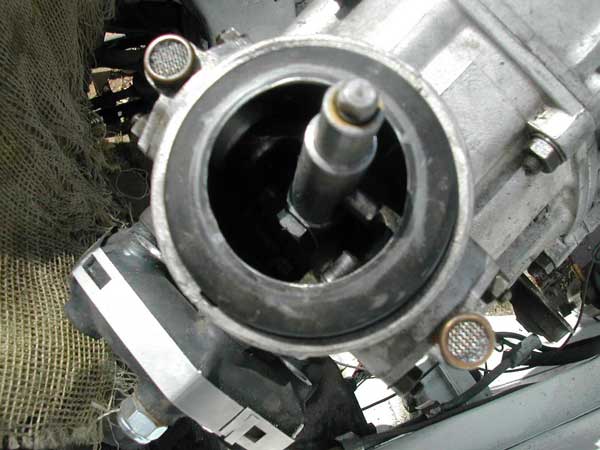 Old-style gear select that requires a different gearlever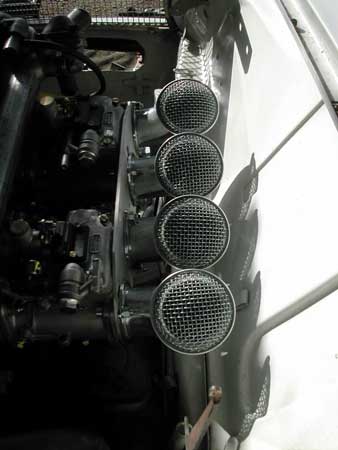 The GTA-style swivelling trumpets just look fantastic....
....can't wait to hear what they sound like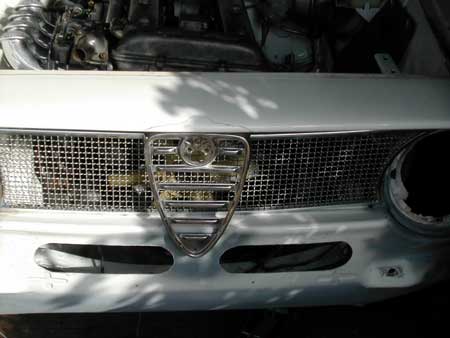 The valence cooling vents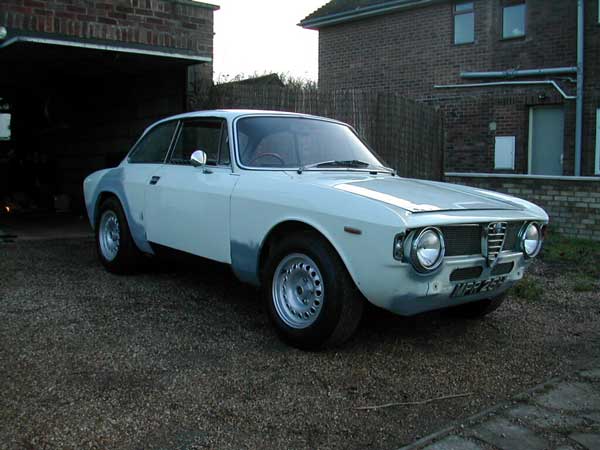 Pretty much ready for MOT & set-up before tackling outer paint
Parts fitted & Supplier
Outer, middle & inner sills - EB
Floorpans x4 - Alfaholics
Wheelarches - EB(no longer on the car)
Stainless exhaust - Alfaholics
Harvey-Bailey Suspension (no longer on the car) - EB
7" GTA Replica wheels - Alfaholics
12mm C&B cams - EB(no longer on the car)
Dellorto 45 DCOE carbs - Jamie Porter
GTA-style swivelling trumpets - EB(no longer on the car)
Standard pistons (no longer on the car) & liners - EB
Hi-Comp pistons - Classic Alfa(no longer on the car)
Engine rebuild parts - EB(no longer on the car)
Car, Engine - VeloceSport
Brembo Alfa 75 Calipers (no longer on the car) - Brian Pillans
Brembo caliper overhaul kit - IAP(no longer on the car)
Engine & LSD rebuild - Jamie Porter(no longer on the car)
Gearbox (short 5th) - Classic Alfa(no longer on the car)
GTA lightweight replica dash - Thorogood
Instruments - Classic Alfa/Titus Rowland
Engine mounts - Classic Alfa(no longer on the car)
Propshaft rebuild - Jamie Porter(no longer on the car)
Adjustable top arms - EB
Front spring pans & rubbers - EB(no longer on the car)
Rubber mats - Classic Alfa(no longer on the car)
Sparco Evo II Race seat - Demon Tweaks
Schroth Harness - Alfaholics
GTA grille set & Berlina Alfa grille - Classic Alfa
Hellebore Replica wheel - Classic Alfa(no longer on the car)
Dash switches - EB
GTA door handles & locks - Classic Alfa
Bolt-in roll cage - Fabricage
Aluminium carb mounts - EB
Ferodo brake pads - Alfaholics
Lightweight GRP doors, bonnet & bootlid - Alfaholics
Perspex side & rear windows - Alfaholics
2.1/4" front spring conversion & lower rears - Alfaholics
4-Pot brake calipers - Alfaholics
Foam-filled fuel tank - Alfaholics
Rear wings - Alfaholics
Rear inner arches - Alfaholics
Race master cylinder - Alfaholics
Red-Top fuel pump - Demon Tweeks
Regulating fuel filter - Alfaholics
Plumbed-in fire extinguisher - Rally Nuts
Oil cooler - Alfaholics
Short 4.7 diff - eBay (rebuild - Cloverleaf Transmissions)
Race gripper LSD - Alfaholics
Aluminium donut conversion - Alfaholics
Alfa 75 8-tooth Starter - Alfaholics
AP racing paddle clutch and flywheel - Alfaholics
Race engine build to 173bhp - WDL
12:1 Hi Comp pistons - Spruell Motorsport
Watts linkage kit - Alfaholics
Denso alternator - eBay
Alternator fitting kits - Alfaholics
Planned Parts (for later!)
GRP front panel