Transformation of a 1969 Giulia GTJ to a GTA replica
News & Updates
Racing 2011
It's been another frustrating start to the season and, again, it's the engine to blame. I was testing ahead of the first race meeting when water issuing from under the bonnet gave me the clue that all was not right. Sure enough there was a misfire which pulling the head off in the paddock confirmed was a cracked liner and a damaged piston. Very disappointing as I've really been looking forward to blowing off some steam on the track – I just wasn't expecting it to be quite this literal. The car is looking great in its Teenage Cancer Trust logos and it was fabulous to see every other car on the grid sporting the logo somewhere too. I race with very nice people.
So the engine is out and down at Brunswick Automotive where Dave Ashford is confident he can harness a few more horses to it. It seems from his initial investigations that the compression ratio had been on the ambitious side which probably explains the engine's super-sensitivity to ignition advance. I chose Brunswick this time because a couple of the other Alfas in my series are running Brunswick motors and are very happy with them. I've been particularly impressed with Dave Ashford's ownership of even the slightest issues.
On the positive side, it should be ready in time for Cadwell Park at the beginning of June. I'll trailer the car down from the north of Scotland on the Tuesday, fit the engine Wednesday, dyno on Thursday, and testing at Cadwell ahead of the weekend's racing on Friday. Fortunately my parents and my brother live close to Brunswick so I can combine "business" and pleasure (OK – pleasure and pleasure).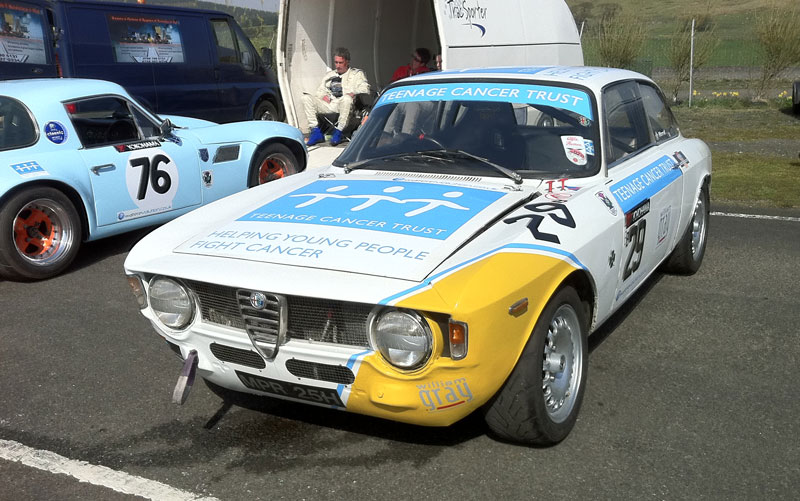 TCT colours on the car this year
I love the twists and turns of Cadwell and qualified an unlikely 3rd on the grid (ahead of some much faster cars) last year. I've been studying my in-car video from those races and have found a couple of corners where I'm sure I can do better. It's a very narrow circuit though and, to paraphrase Murray Walker from innumerable grands prix, "Catching is one thing – passing is something else altogether". DRS anybody?
A really good battle is developing amongst the Class A Suds. Ian Daltrey & Rodger Motherwell's Brunswick-powered cars have the speed advantage whilst Colin Beveridge's greater experience keeps him in the mix. Ian, my neighbour, is currently leading the battle though with a greater consistency despite having a few issues with the inboard brakes. He managed to shed a brake pad going down Duffus Dip which is guaranteed to catch your attention. Rodger has not been without issues and had a lucky escape finding a stone trapped in the venturi of his down-draught carburettor. The Suds aren't yet the quickest class A cars out there but the battles are exciting. A fourth Sud is due to join them for the Classic Speedfair weekend onwards. Exciting times.
Cadwell Park June 09 The best-laid plans, as ever, don't quite work out that way but I did at least leave Dave's for Cadwell on the Thursday afternoon with a running engine, albeit without a trip to the rollers. That night I was running a nasty fever too. Anyhow, testing went quite well and I reminded myself how the circuit went. I wasn't pushing the car (or the rough-feeling driver) and turned in a 1:51 lap
Saturday quali and I put it 5th on the grid (behind a 3.9 litre Morgan, 280bhp Escort, Porsche 911, and 5.3 litre Perana Capri) with a 1:47.8. The little Alfa looked a bit out of place in this company. Got nailed off the line (must remember to familiarise myself with start light sequences at new circuits...) and finished 8th (3rd in class) after a great race with a mk2 Escort.
Race 2 I got a much better start and actually made up a position off the line (unheard of for me) and was in a virtually unassailable 5th place (2nd in class behind the 280 bhp Escort) when the safety car put me back in the clutches of the mk2 Escort. Great race with him - 6th place and another 3rd in class. Oh, and a 1:46.7lap