Transformation of a 1969 Giulia GTJ to a GTA replica
News & Updates
Racing 09
2009 is all about being competitive rather than just taking part. To achieve this, one of the first things I need is some more power. Out came the engine and gearbox (the latter being sent off to Charlie Skinner at Cloverleaf Transmissions to find out where 2nd gear synchro went) for upgrade work. I decided on using Chris Whelan based upon a couple of recommendations and because I liked the sound of his approach. Chris dyno's the engines he receives to check on power before he starts work. A couple of power runs with my engine showed that it had about 150-ish bhp. This is less than JP suggested he had built into it. That said, when told of the engine's spec, Bob Dove, a well-known Alfa engine builder, said it would only have 150-155bhp. He was right.
The plan is to pull the engine to bits and check it out. From then, Chris will put the head on a flow bench to check the porting. I've supplied some slightly larger forged JE 12:1 pistons, some 45mm inlet valves and uprated valve springs. Chris is going to fit some cams of his own design. Conrods are going to be shot-peened to stress-relieve them. The whole lot will go back together and be dyno'd. As part of the dyno testing, the plan is to compare air horns and distributors.
Charlie Skinner discovered a broken blocking piece in the 2nd gear synchro mechanism which is what he had predicted. It explains why the synchro gave up so suddenly. Meanwhile, Chris has been stripping the engine. Seems the exhaust valves have been "kissing" the pistons leaving witness marks and damaging the cams. It may be that the clearances, which should be greater than standard, were fractionally too low. The crank and bearing are showing signs of wear - 4 years of "abuse".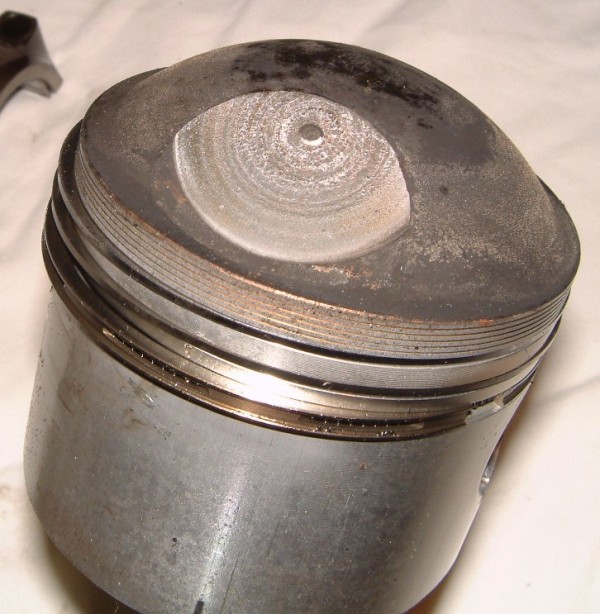 The piston with evidence of contact with the exhaust valve
April 09 Well it's been pretty miserable so far this year. It started off well with the news that my engine was making 188bhp on the dyno whilst still running on the old (150bhp) carb settings (chokes & jets) with good torque. Then the problems started with the news that #1 cylinder liner had cracked. Radiused liners where then fitted and tested. The result was exactly the same. After lots of debate, it was agreed to replace the block in the hope that, with no better idea, this might be the cause (despite there not being much evidence to suggest this). After a hunt around for a rather expensive block from Classic Alfa and a replacement piston ring (one got broken on assembly) the engine was tested again. Down on power (170bhp) #3 then cracked. This time there was clear evidence of detonation. Cam timing was out and it seemed that there was something strange going on with ignition timing. A second bottom end is being built using standard 84mm pistons and the 123 distribtor has gone back to Classic Alfa to be tested. Over 6 months after starting and no engine.
In the meantime, I missed my first race weekend. I went down anyway as I had a hotel booked and I wanted to get some in-car footage for the TV. I was glad to be able to help Roger Motherwell out in his first race and caputure (most of) it on video. I have to say, it's a pretty miserable experience being at a race without a car. I suppose I should only be glad that the race weekend in March didn't eventually make it onto the calendar.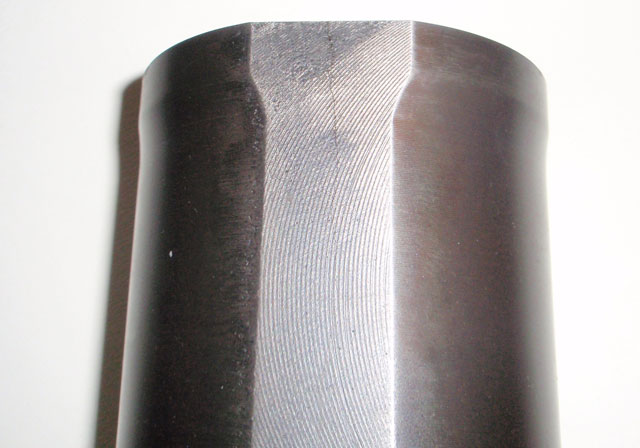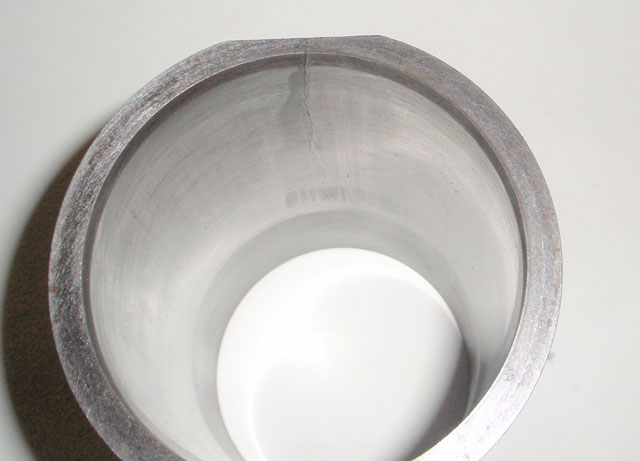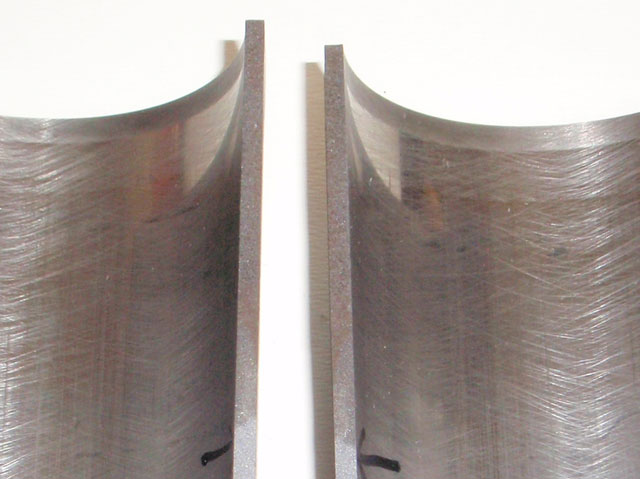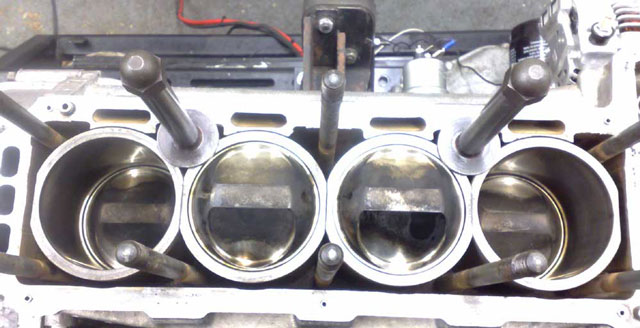 The cracked cylinder liner
Whilst all this has being going on in Brighton, I've been doing the final prep on the car. New (and bizarre) regs from the MSA mean very different towing eyes with a 60mm clearance. I made something up with a lifting sling which seems to meet the intent. Additionally I have repainted the front of the car with a GTA-stylee corner contrasting colour. This is experiental before, at some point, I completely renew the front of the car. It's designed to match the Stunt Cock Racing logo (we've also captured the Stunt Cock domain). I've invested in an AP racing paddle clutch and flywheel. All I need's an engine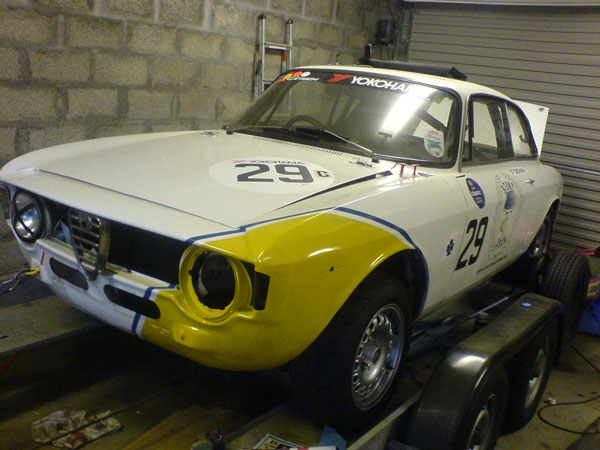 Early paint job
May 09Finally the engine survived the trip to the dyno. Power is only 173bhp. I should just get it in time for the end of May race meeting.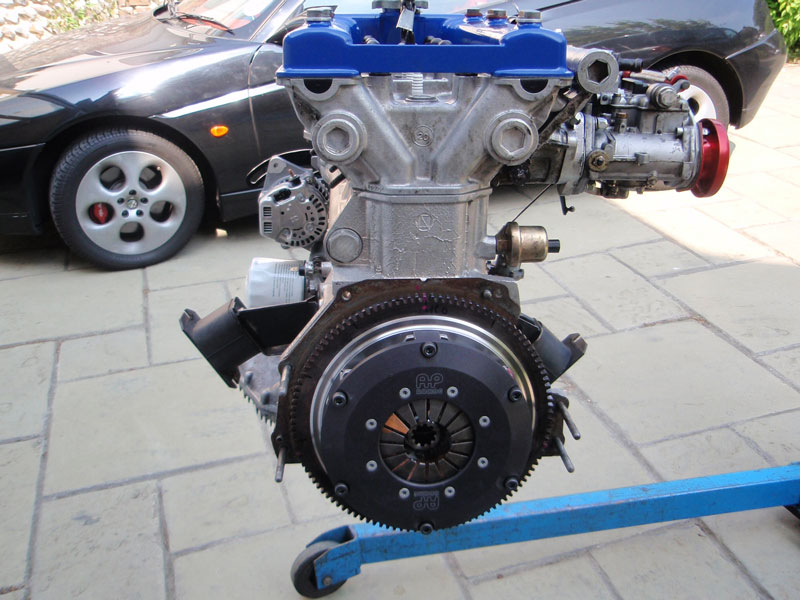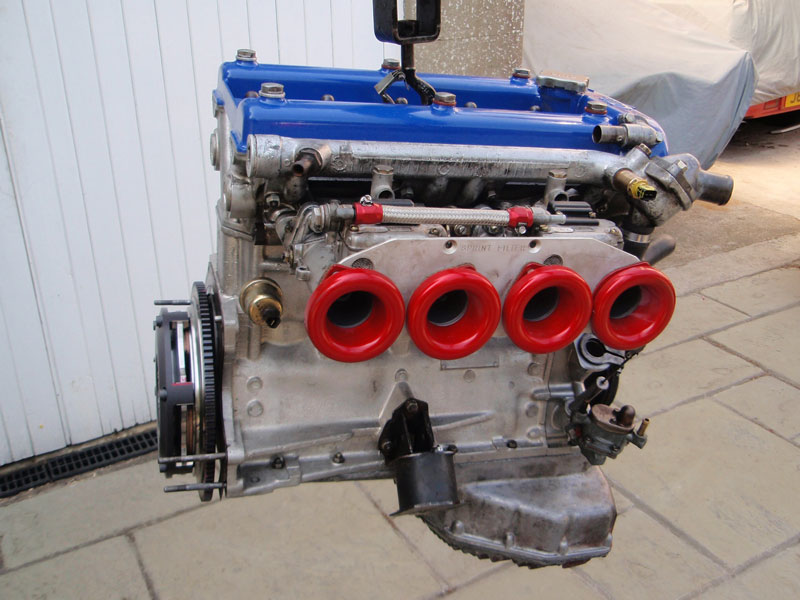 The (mostly) finished article
May 09 Engine went in without any issues and I also got the modified exhaust back. It was a bit of challenge getting the exhaust to hang properly but it seemed ok and, besides, it was all a bit of a rush. So to the first race weekend and all felt pretty good during testing. The additional revs (up from 7000 to 7500) meant different gearchange strategies, in particular dropping to second for the hairpin. This presented some challenges of its own, testing my heel-and-toe technique to the limit with the vicious bite of the AP racing clutch. Qualifying was a very frustrating experience being tucked up behind and very "wide" and heavy, East African Safari spec, Mustang - very fast in a straight line and impossibly slow (and impossible to pass) through the corners. This left me in 13th on the grid. The race itself was pretty eventful (not in a good way) and, once the dust had settled (both literally and metaphorically), I finished 6th - best to date. This meant I started race 2 on pole! Another first. I got a shocking start and was swallowed up by the quicker cars behind me - I wasn't too unhappy with 7th and a new PB lap time of 64.2 secs - 1.5 better than last year.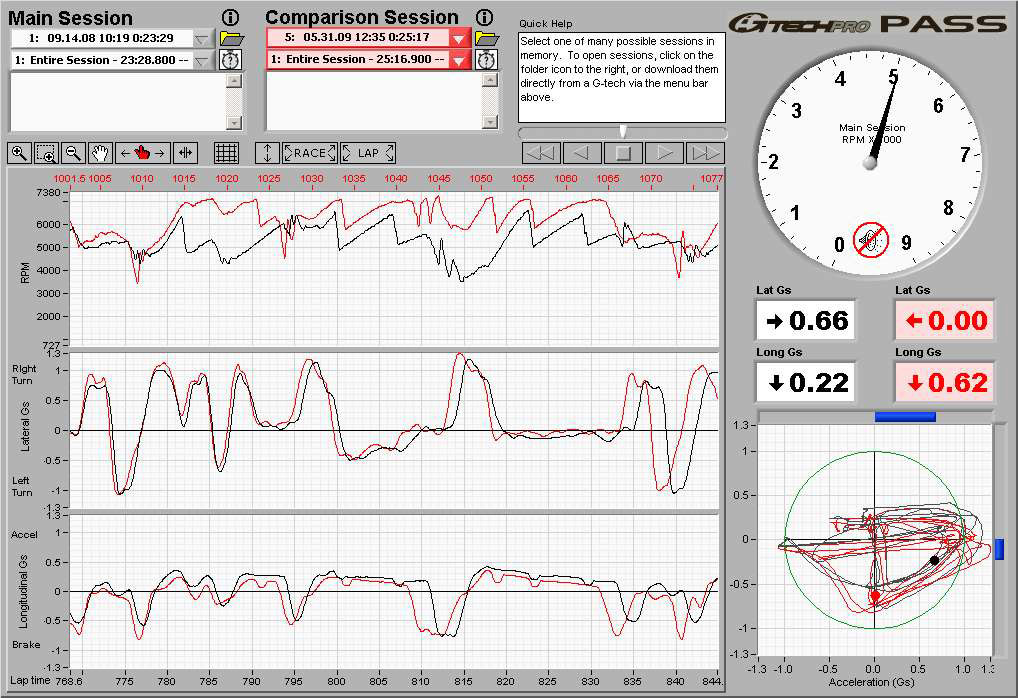 Performance meter data showing difference in laps from best of last year to this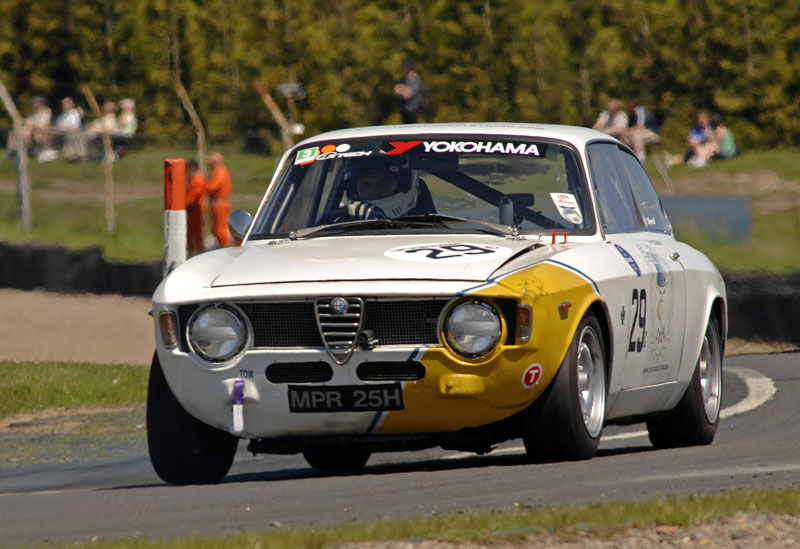 Great shots from David Steele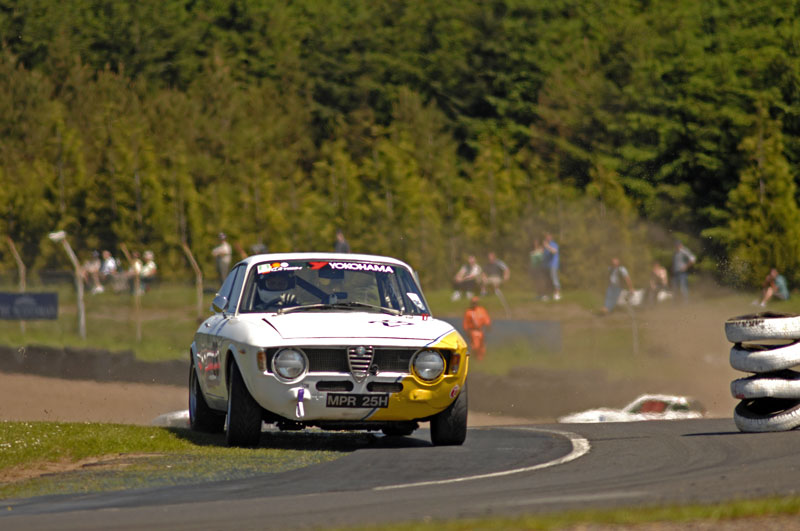 Another great photo from David showing the tyre bundle that George hit being punted off the front of my car
June 09Chatting to Max at Alfaholics after the race weekend, he suggested that I should try heavier front springs, up from 800lbs to 1000lbs. I also ordered a set of their alloy rear calipers with a view to giving me more confidence by shortening my rather "long" brake pedal. The June race meeting proved that these two updates were worth every penny - my ultimate lap time down nearly another whole second. I qualified 6th (best to date) on a damp track and finished 7th on a drying track in the first race, claiming fastest class lap time which was a bit of a surprise. The second race was completely dry, playing into the hands of the more powerful cars and I finished 9th, albeit with my best ever lap time on the last lap. The low 63 secs are now my new benchmark and I feel pretty confident that a 62 of some sort will come by the end of the season. The car seems to have 40-odd kg somewhere too - I have no idea where but it's now 807kg on the scales.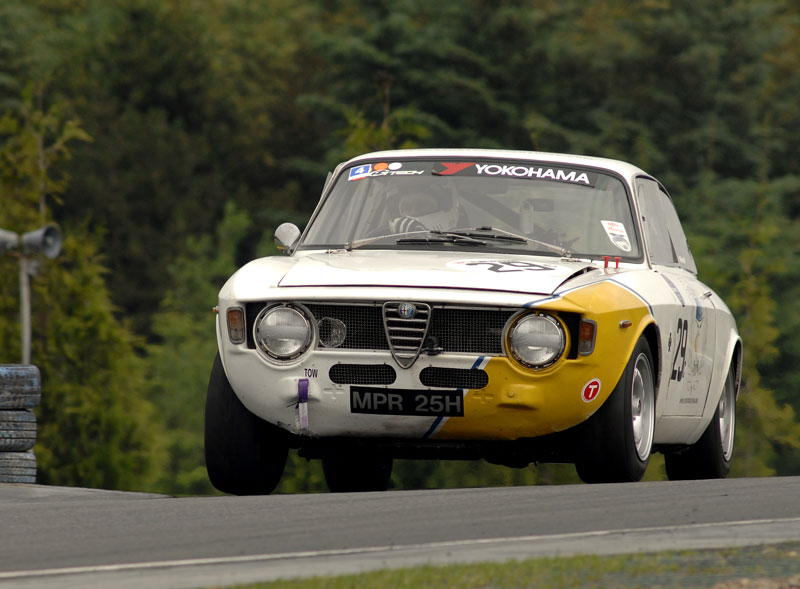 Piling through Clark even more poised
Nov 09I ended up 3rd in class in the championship having been pipped into second place by the Escort with a margin of only 3 points. Had I competed in the first two races of the season, second place would have been mine and had I competed in the Bo'ness Hillclimb (inexplicably part of the championship), I'd have been in with a good shout at a class win. That's pretty satisfying for a first "full" season.
My lap times have been improving nicely since I started. With my early races being in the 67s, I'm now looking at 62s including a couple of fastest-in-classes. I have my sights firmly set on 61s and below for next season and I'm hatching plans for "White Lightening" for the winter. Seam-welding the chassis is definitely going to help as well as fitting some race-standard dampers. I'm also looking at an Alfaholics front geometry kit to get the nose of the car down. Finally, a trip to a rolling road to see if a little more power can be squeezed from my engine is on the cards. Power is definitely what I'm lacking – typically I'm closing on my competition as I exit the corners only to see the gap start to open again along the straights.
Being an engineer by profession, I like to work from data. I have a couple of tools I use to help me improve. Firstly I run a G-Tech performance meter, giving me charts of accelerations vs revs so I can compare laps and the overall performance of the car. It also gives me a "Traction Circle" for those of you that are familiar with such things. The latest tool though is my current favourite. It's called Tracknite and allows you to compare in-car video of laps side-by-side so, not only can you see which laps or sectors you were faster in but also which lines you took, where you braked and where you applied the power. And if, like me, you have in-car footage from your fellow competitors, you can see where they're quicker and why. Taking the Escort for example: I'm nearly half a second quicker through the twisty bits of Knockhill – he pulls that back (and more) along the two long straights. The tool has really taught me the importance of getting power on early – next season I'm really going to be experimenting with this – I need to find about 6-tenths to get me into the 61s – doesn't sound like a lot but every tenth gets harder and harder to find.