Transformation of a 1969 Giulia GTJ to a GTA replica
News & Updates
Alfaholics Combe 2008
A long winter of doing very little on the car and the 500+ mile trip to Chippenham. Despite a damp start to the day, it dried up to another fantastic day. The car behaved itself and we all had a great time.
Racing 08
So 2008 is the year that I take to the track properly. I did my ARDS course at Knockhill, an experience I found particularly nerve-racking (like exams and your driving test all combined) though it turned out to be very straightforward. It turns out that my instructor for the driving test part of the course, Sasha Pearl, is going to be doing some of the races in my series - the Scottish Motor Racing Club (SMRC) Classic Sports and Saloons. Sasha also presents the TV coverage (obscure "Motors TV" channel on satellite) of the racing at Knockhill where the races are all held
Next was to get the car prepared. The key additions were: an oil catch tank, a race transponder (for timing), a rain light, and sealing up around the spaces that lead from the boot (where the fuel tank is) to the cabin (where I am). This involves using the type of sealing foam used in buildings. I also added an aluminium door "card" to tidy things up and add a smidge more protection.
I was incredibly lucky to get the opportunity of a day's coaching from Mark Hales www.markhales.com at Cadwell Park. Mark managed to squeeze into a day the key elements of what he teaches on his longer courses. A large element of his coaching was around the mental approach to learning corners and optimising them. I found the day incredibly helpful and by the end had the Alfa absolutely flying, passing cars much more capable than mine. One of the key spin-offs (poor choice of word...) for me was discovering the capabilities of the car at the limit when driven well. Taking advantage of the benefit you have gain from getting a corner right was also key and I found myself applying power much earlier through a corner than I thought possible. I still have to learn to put all this into practice but it's a beginning. Thanks, Mark!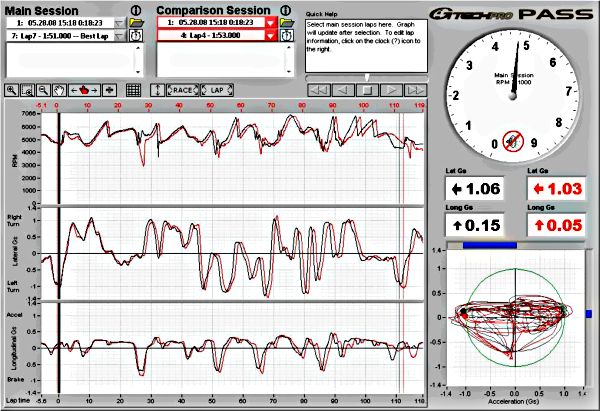 Output from the performance meter from some of the laps. Cadwell (in the dry) is fun
7 June 08 - My First Race Weekend After what seemed like an eternity of waiting, the first race weekend came around at the Knockhill Classic Speedfair. I arrived on Friday afternoon to take part in the first test session. It was a good job I did as I had some issues with the car. The PerTronix Ignitor ignition system and Flamethrower Coil I had fitted seemed to be interfering with the OMEX rev limiter I have on the car, causing a horrible misfire. This took me a bit of time to find meaning that I only got 4 part-laps from the 25-minute session. Still, better then than in qualifying.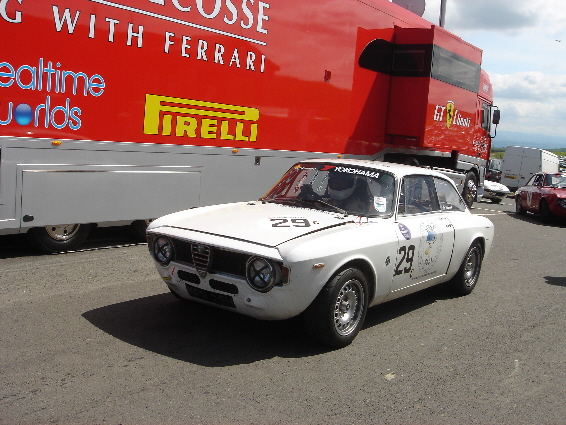 Some expensive machinery - and a Ferrari truck
Saturday morning arrived with another lovely day and this time testing went much better. The car was fine and I spent the time just learning the circuit (this being my first trip to a dry Knockhill). There was no timing, but my performance meter suggested times in the 66 sec per lap. Knockhill is a short circuit (at 1.3 miles) but loads of fun. The other thing I wanted to learn was how much fuel I was using - just under a litre every couple of laps.
Early afternoon and the qualifying session saw me in 15th place out of 26 cars. Ahead of me on the grid was a Mini Ogle and a Lotus Cortina.
The first race was great. I lost several places going into the first couple of corners - partly because I couldn't see any start lights at all from my place on the grid and partly because I was too tentative. Intially, as I settled down, I had to defend from the attentions of an MG Midget but, as I got my rhythm, I pulled away from him and caught up with the Renault 8 Gordini that had passed me off the line. We had a good race, with me getting alongside him up the main straight but backing off as I came to the corner. At one point he got completely sideways in front of me out of the hairpin. Eventually, I got far enough ahead of him to take the corner and, from then on, pulled away. I think I should have also got the Escort just ahead of me into the last corner because he got completely out of shape but I followed him in and ended up half a second behind.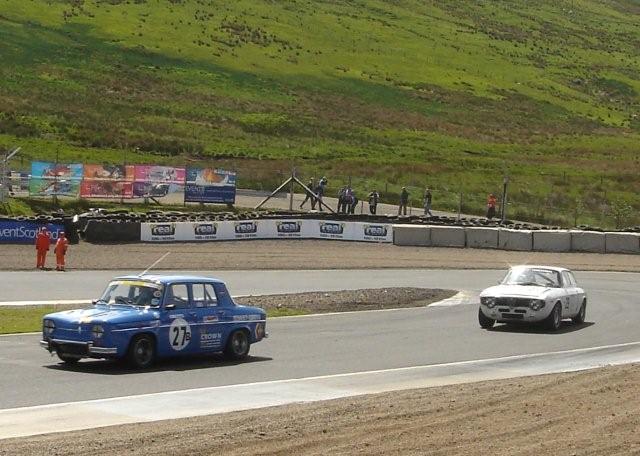 Me chasing the Gordini
My 14th place finish meant that I started there in the second race. I got a much better start off the line thanks to being able to see some start lights. Tentative driving into Duffis saw me passed by 3 or 4 cars (a couple of which I'd passed off the start). I spent most of the race tucked right up behind the Gordini again and had another great battle. I got past once by was quickly overtaken back due to my compromised corner exit. The race was eventually cut short at 9 laps out of 15 by the sister Renault being stopped in a dangerous position but great fun all the same.
So what needs doing to the car after that experience? Firstly, I need to upgrade the cooling because it is so marginal (inadequate in the very warm conditions). This will mean a new rad of some sort and a cooler thermostat (I'm told a QTH 101 is 74degC). Next, better brakes. My master cylinder is over 22mm (7/8") so I'm fitting a 19mm (3/4") unit which will give me more hydraulic leverage allowing me to take advantage of the big calipers and sticky tyres. I need to check the ignition timing (set rather hurridly after the PerTronix issue) and take a look at the cam timing to see if I can sneak a few more bhp. I'm also starting the investigation as to what I need to turn my engine from "fast road" to "full race".
Video of the race from the Lotus Cortina (Must get my camera fitted for the next race)
Post-race Adjustments Braking certainly needed more bite - I never felt like I got anywhere near locking the brakes. Having dispensed with the servo a long time ago, the Girling master cylinder was just too large a diameter. Fitting a narrower unit, upped the hydraulic advantage at the expense of a longer pedal. Anyhow, it is a great upgrade - the brakes are now awesome. Whilst fiddling about under there, I adjusted the cltch pedal position which means the bite point is much earlier in the stroke. The next thing was to add a crutch strap. The first Schroth strap I bought, a 5-point unit, came with a health warning suggesting that, if I valued any part of my anatomy down there, I should fit a 6-point version. I do so I did. The 6-point version is bulkier but I feel happier about it. The rear brake pads were looking pretty sad, so a new set were fitted.
Finally, the engine. I thought I'd try the PerTronix ignition system again - and wished I hadn't. Still the same random misfire. So back to good old points. At least I'd have the time to set them up properly. I double-checked TDC was where I thought it was. I tried 40 deg advance but there seemed to be some flat spots so went back to 35 deg and everything felt good. I also thought I'd have a play with cam timing. Now, it seems that adjusting the cam timing does something but no-one seems to agree what it does. I tried advancing my exhaust cam by a couple of degrees - initial feel seemed to be better but I'd also swapped my GTA trumpets for some 50mm units (and sorted the ignition) So I can't be sure. What I must do is a baseline G-Tech power run. I might have a play with cam timing along with some measurements and try to come up with something more objective and definitive. Lastly, I discovered a few nuts and bolts a little loose. Anyhow, I'm going to do the testing sessions ahead of the race day so hopefully I should learn what this lot has done for me.

I finally spoke to a very helpful guy a OMEX about the PerTronix issues. What he said made a lot of sense: the symptoms are indicative of interference most likely caused by a stray spark. This would fit since the problem seemed to be worse under heavy load (when spark voltage needs to be at its highest) and only when I had the 40kV coil fitted. He suggested checking the distributor cap (new) or the plug leads.

29 June 08 - Race Weekend No.2 Back to Knockhill and firstly a couple of test sessions. The first session was cut short by a TVR losing its oil on the track. The car felt good though the brake pedal was still a little long - adjusted it after the session. Tyre temperatures indicated that the right rear was possibly over-inflated (high crown temp relative to the shoulders) so I dropped a couple of PSI out of that. The second session proved more problematic: I'd over-done the adjustment and suffered locking brakes (with foot OFF the pedal - without enough lost motion, the fluid can't return to tank - the brakes warm and the problem gets worse). I made it back to the pits (front wheels almost locked) and managed to free them off.

After a wet night and a very early start, qualifying in the morning was dry but slippery. My time was in the 65's - about half a second quicker - on a day when the front-runners were about 1 sec off their ultimate pace. I pushed a bit hard through the chicane and ran onto the matting (beyound the outside kerb) losing the back end and getting into a 4-way tank slapper before sliding onto the grass on the infield. No damage. Qualified 11th of 19.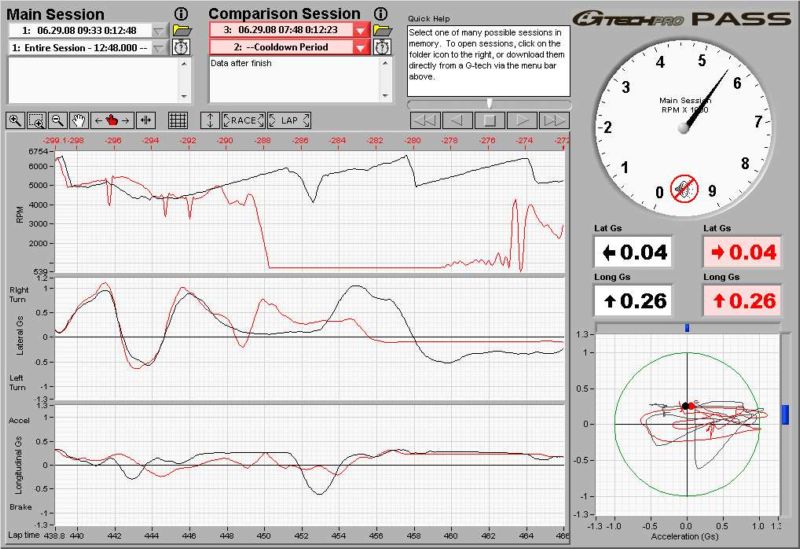 The red line shows the forces on a tank slapper relative to the normal (black) trace
I'm getting the hang of starts and only lost a place to Grant Allan in his Porsche 911 (alongside me on the grid). And then spent the rest of my race trying to figure out how to get past him. The Porsche was much slower than me through the corners and under braking but blitzes me on the straights. Our lap times were with a couple of tenths of each other. On lap 6, the cable that feeds all of my electrics came out of its crimped connector and my race was over. I was running 11th and still trying to work out how to get past. My lap time was my new lap record in the mid 65's.

Over lunch the rain was torrential but stopped just ahead of our race. I was on the back of the grid (18 of 18) thanks to my DNF but not too worried given this was my first wet race. Alongside me on the grid was Willie Robertson in his 350bhp Datsun 240Z (he'd been leading the first race until he went off on lap 9). Again, I got a pretty good start (see the video below), passing the 2 Alfas ahead of me before the first corner and then Colin Beveridge in his Sud at the beginning of the next lap. After the Midget, I also passed the Mini Ogle before once again coming across Grant in his Porsche. I did no better at passing him though I did try into the hairpin and had an anxious few moments braking through a puddle towards his door. I finished 13th of 18.

Video of the second race (battery ran out frustratingly...)
Post-race I need to see if I can get a better brake pedal. I seem to be outbraking most things I come across into the hairpin but it's still a bit spongy. I also need to put a bit more travel into the clutch pedal as occasionally I graunch a synchro as I change. Apart from that, all is OK. I'm trying to figure out where the extra half second came from. Two things I've noticed on the trace comparison are the higherleft-hand force I'm generating into Duffus (braver? Better tyre pressure) and holding higher revs in 4th towards the hairpin. There were also a couple of places I was quicker on the slower lap so I can still do an overall faster lap. Certainly I qualified behind the Ogle last time and now I'm ahead so I'm making relative progress.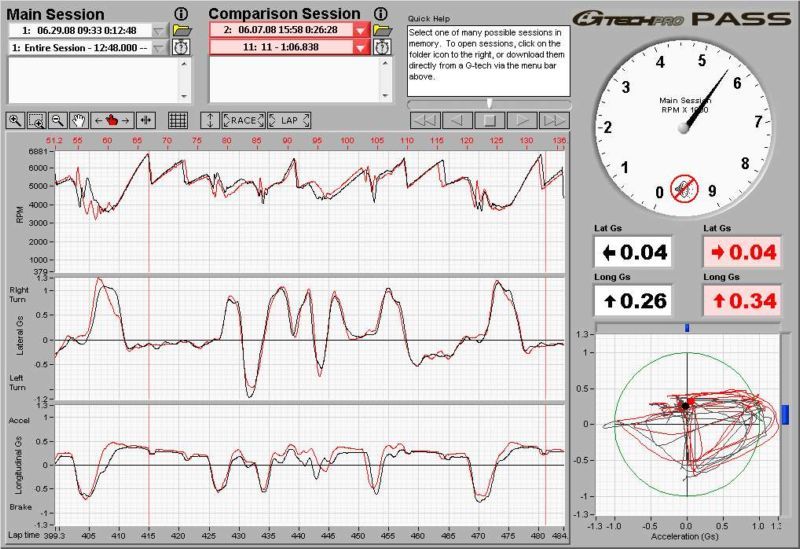 The black line shows my best lap relative to the previous best (red) trace
2 August 08 - Race Weekend No.3 Well the race weekend didn't start out so well with my Merc tow car being broken into in Edinburgh. This left me all rather distracted - so much so that when asked to demonstrate the battery cut-off pull-cable by the scrutineer on Sat afternoon, I heaved on the fire extinguisher cable. Believing it to be stuck, I pulled so hard the handle broke, cutting both of my hands in the process. A day better forgotten.

The race day itself was a bit better. Another damp day at Knockhill and I qualified 15th out of 22 just ahead of Colin in his Sud and 3 places in front of Grant in his 911 - would it be enough? Well, the answer is yes - just. I got stuck behind an Escort having fallen out of "the train" that formed. Bizarrely I also had a spider decide to drop down in front of my face going into Clark corner. I managed to pass Colin's Sud and, as the "Last Lap" board was held out, I was thinking I only need to not make a mistake to hold 7th place. Brain fade into the chicane though meant that I decided to change down there for the first time ever scrubbing off all of my speed and letting Colin draw level on the following straight. 8th place and 3rd in class was my best finish so far though.

Race
Race 2 and I was alongside Colin with Grant just behind - that's not enough to hold him off. I got a good start but an assertive move up the inside meant that Colin held his place. On lap 8, I caught him and was well alongside when I saw a yellow flag followed by a red for Jimmy Crowe's Escort which had expired on a bend. Another 8th place - this time 2nd in class.

Looking at the performance meter data, I don't think I was being aggressive enough going into the hairpin. It maybe because I was focusing upon braking points and scrubbing off too much speed with my improved brakes. The dampness didn't help much either and lap times were generally up by a second or two. I need to make a proper repair of the pull-handle and I have a split gaiter on the gearlever. The car was weighed and came out at 844kg - pretty much exactly 90% (as required under the regs) of 930kg - a GTJ kerb weight.

4 Sept 08 - Race Weekend No.4 Although the weekend promised to be dry, the practice started wet. Colin Beveridge had a "lucky" escape when his wheel failed but only on the warm-down lap - it could have been so much worse.

Qualifying was a real mess as it was damp from heavy overnight rain and no wind to help dry it out. I don't think I got a single flying lap in without some interruption. The session was split in two by a red flag with the second session only 3 minutes long - simply not enough time to do more than one fast lap. I qualified 11th out of 22 with some faster cars behind me. The first race saw me do my best lap time of the season at 65.491s and finished 12th. I'd been running in 11th and pulling gradually away from Grant in his 911 by 0.75s a lap until the Lotus Elite re-emerged from the pits and sat in front of me through the twisty section. This slowed me by a full 2 secs allowing Grant back up on my tail. His Porsche can out-drag me in the straights, meaning that I had to go defensive into the corners that I'm normally faster. He inevitably passed me on the long straight. The film below is from the camera mounted on the nose of the car.


Race 2 and I was alongside Grant on the grid. There was a certain inevitability that I was going to be looking at the back of a Porsche for much of the race. The problem with this is that I then fall back into the grasps of other cars too. This happened when the recovering Lotus Elan started battling with Grant. This let George Leitch in his fast and light Mini Ogle have a go at me. I then had a great race with George (with some great video too) finally diving up the inside into the last corner of the last lap. Finished 11th. As it turned out, George and the TVR had jumped the start and had a 10 sec penalty so I needn't have passed him.

It's so much more fun racing in the dry especially on these tyres. The additional camber on the front seems to have helped the tyre temperatures.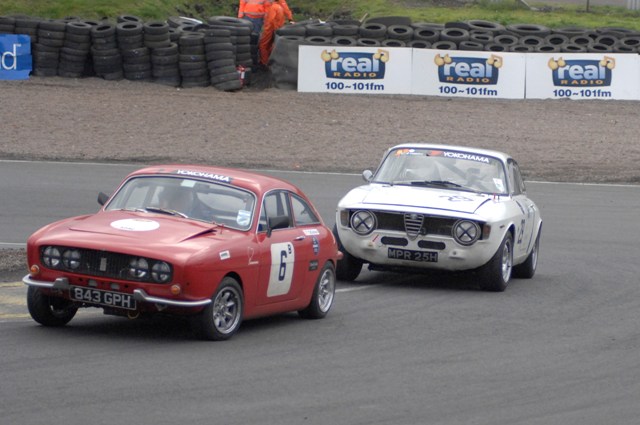 Close racing with George Leitch in his Mini Ogle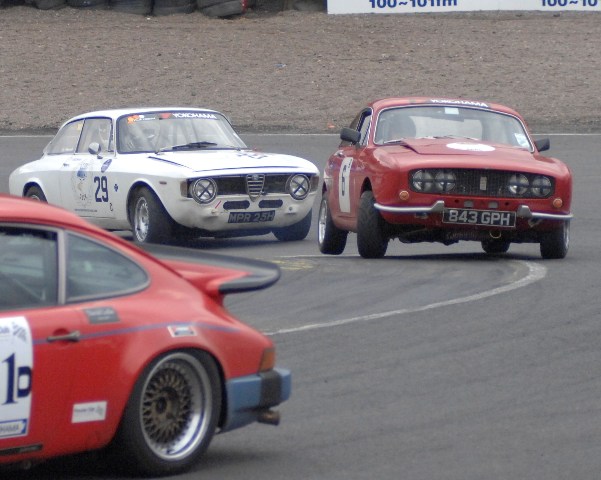 Chasing George and Grant (911)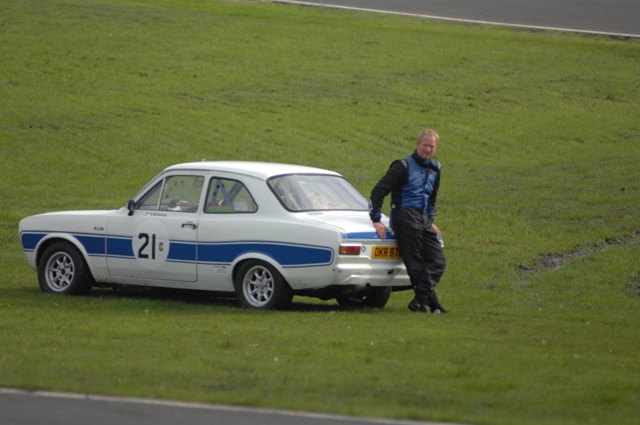 Jimmy Crow yet again having gearbox problems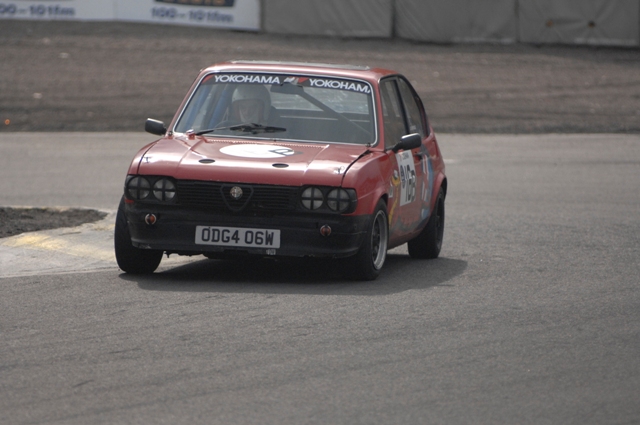 Colin Beveridge - with 4 wheels back on his wagon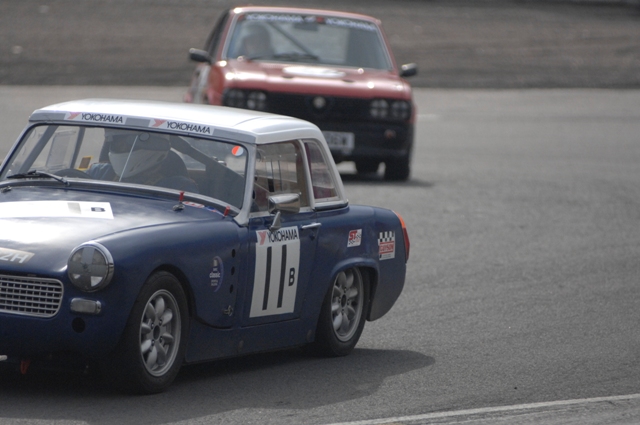 Colin chasing Ian Morton in his Midget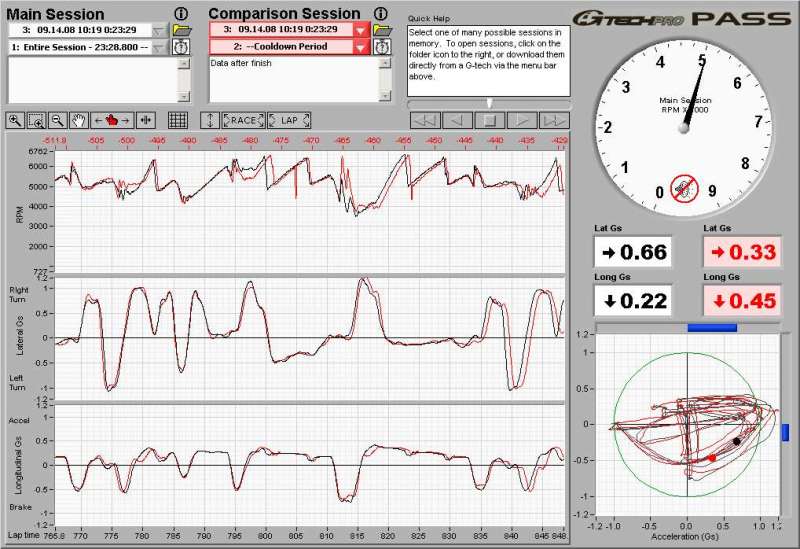 My latest best lap (Black) versus the previous best (Red)

So that's it for the season. 8 races and 7 finishes with no major mishaps. I get to take the black/yellow novice cross off the back of the car now. The engine is out and off to get more power put in by Chris Whelan. He will measure the current output then fit new cams and HC pistons to turn it into a "proper" race engine. The gearbox is off to Charlie Skinner to see why 2nd gear synchro suddenly went AWOL which will give me the opportunity to tidy up the engine bay. It has been a load of fun and my thanks must go to all my fellow racers for being so friendly and welcoming. In particular, Colin Beveridge for introducing me and showing me the ropes and to Stan Bernard for doing a great job looking after our series as well, of course, to all the officials and the marshalls. Roll on next season....